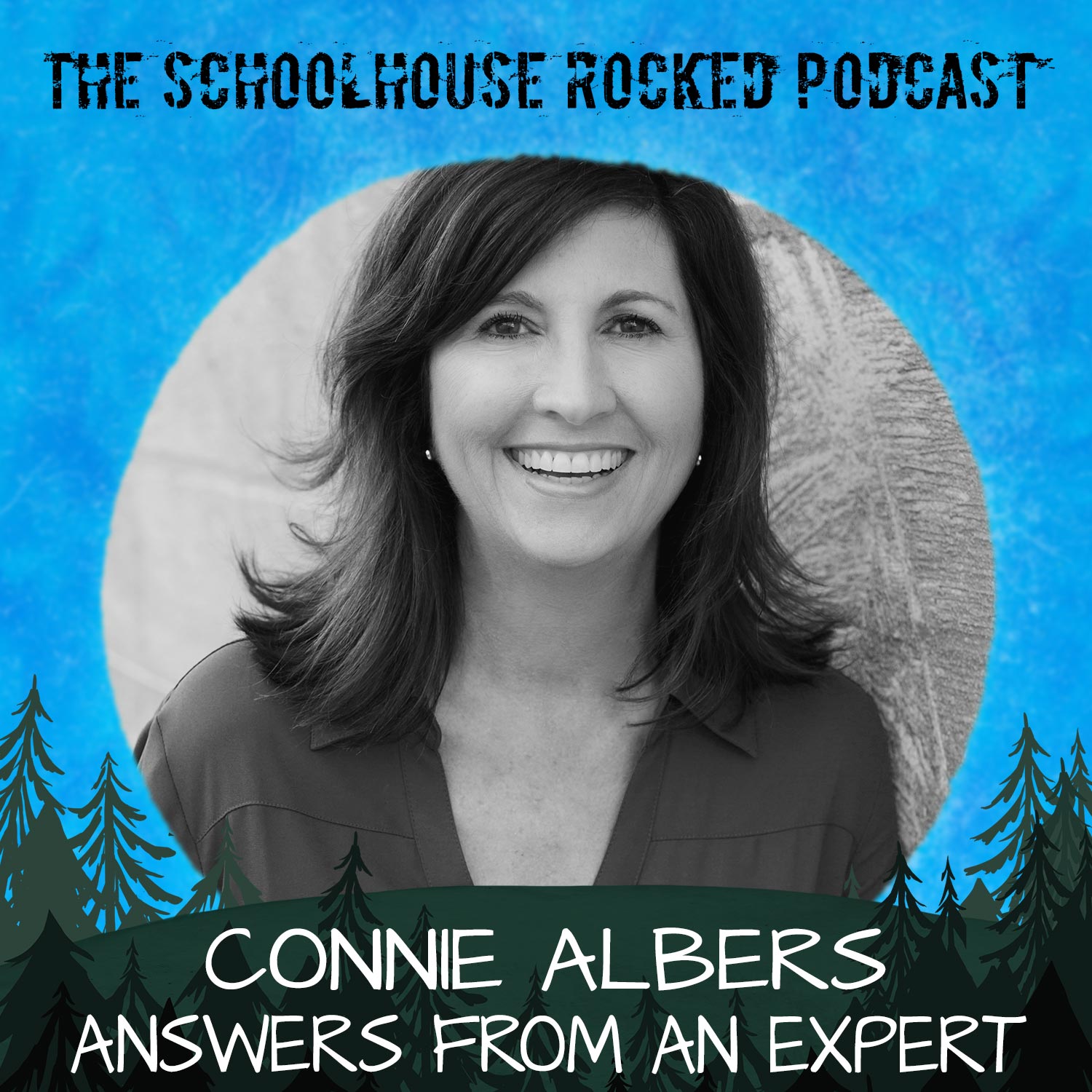 Join Yvette Hampton and Aby Rinella for an encouraging conversation with Connie Albers, veteran homeschool mom and author of Parenting beyond the Rules. Connie answers several questions such as "If you could talk to your younger self, what would you say? What was the most important decision you made regarding parenting or homeschooling? How did you homeschool multiple kids through graduation without being an expert in every subject? How important is curriculum choice? You managed your home and schedule with multiple kids at different ages? How did you foster a healthy marriage through your years of raising kids and homeschooling?"
Be sure to tune in this Wednesday for the conclusion of this interview.
Has The Schoolhouse Rocked Podcast been a blessing to you? Help us provide resources, support, and encouragement to homeschooling families around the world. Please consider making a year-end tax-deductible donation to support Schoolhouse Rocked.
Without the support of the homeschool community we could not produce The Schoolhouse Rocked Podcast. Whether or not you can donate, we ask that EVERY listener support the show by sharing it with your friends and family, by leaving a review on iTunes, and by praying for our team.
Watch this full interview with Connie Albers on the Schoolhouse Rocked YouTube Channel.
Learn more about Connie Albers at ConnieAlbers.com
Recommended Resources:
Start Homeschooling in 5 EASY Steps - with Stephanie Lambert 
10 Steps to Homeschooling with EXCELLENCE
Education:  Does God Have an Opinion?, by Israel Wayne
KNOW YOUR STATE HOMESCHOOLING LAWS
Find your state homeschool organization 
If you are considering homeschooling or just need some great homeschooling encouragement, please check out HomegrownGeneration.com for over 9 hours of FREE homeschool videos from the 2020 Homegrown Generation Family Expo.
New, lower price! FULL ACCESS to the 2020 Homegrown Generation Family Expo is just $10!
Please take a minute to visit our sponsors and thank them for helping to bring you The Schoolhouse Rocked Podcast. We ONLY work with companies we know and love! We happily recommend these companies and their products.
---
Are you looking for a new Math Curriculum? CTCMath specializes in providing online video tutorials that take a multi-sensory approach to learning. Creative graphics and animation, synchronized with the friendly voice of internationally acclaimed teacher, Pat Murray, make learning math easy and effective. Visit CTCmath.com today to start your free trial today.
Every December, Christians are given new reasons to not take Christmas seriously. Joshua Gibbs' new book titled, The 25th: New and Selected Christmas Essays, argues that Christians have every reason to robustly celebrate Christmas with the confidence that they are participating in one of the oldest, deepest, and greatest mysteries of God. Claim your copy of this new book by the CiRCE Institute titled The 25th: New and Selected Christmas Essays from Amazon.com or CirceInstitute.Com/Books.
This episode of The Schoolhouse Rocked Podcast is brought to you by Classical Conversations. Classical Conversations leads the home-centered education movement by teaching parents and students the classical tools of learning so that they can discover God's created order and beauty. Share the love of learning through a Christian worldview and fellowship with other families. Our families thrive using three keys to a great education: Classical, Christian, and Community.
Play Now